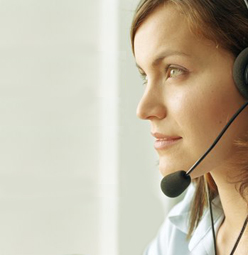 How Does Our System Work?
The TPV is simply created by establishing a 3-way call between your agent, your customer, and VerbatimTPV. The VerbatimTPV system will ask the customer for identifying information, to confirm their order, and if they are the authorized decision maker. We can design any script or call flow to meet your unique need. Our design specialist will work with you to ensure that the final TPV captures all the information as quickly as possible.
What is Third Party Verification?
This is a service which establishes a permanent voice log of a customer's agreement to purchase a product or service, or coverage of certain Terms and Conditions, by a neutral party who has no stake in that transaction.

TPV call recording is required and/or authorized by the FCC and most state PUC for telecom service changes including VOIP #911 declarations, and by many states for changes in Electric and Natural Gas service. In addition, the FTC requires a process similar to TPV for many types of orders. We have many clients who use TPV as reliable documentation of their orders or for Quality Assurance purposes.
When it comes to keeping track of business activities, you need a verification system that works perfectly. Automated 3rd party verification, designed for your business no matter where you are or what you do, allows for a quick start with easy implementation. You can expect fast and convenient access to records, simple and reliable changes in script, secure storage, full compliance with regulatory bodies, and minimal interference with time-sensitive sales closings.
Verbatim TPV provides all of these benefits, plus you'll gain greater customer satisfaction, increased sales as agents initiate the next sale while the previous "hot" prospect moves independently through the voice logging system, and more. Just browse through the following detailed articles and scan our web site. View the web site example or listen in on sample TPV calls.
It won't take long for you to understand the advantages of an automated live third party verification service. And once you decide to sign on with this service bureau, it won't be long before you know how sharp your business instincts are. In less than 48 hours, you can implement this system and realize the many benefits.
So take a look around, read the straightforward details, and contact us today if you have any questions.
The Reason for Our Success is Easy




Redundant call processing and duel channel recording
Meets FCC, FTC, as well as Sate PUC requirements as a TPV Provider
Over 10 years of experience developing scripts and call-flows to close sales quickly
We hold our overhead down by only offering the services you need
Your client information is secure; we do not sell customer information. Never have. Never will!!!

Call us today to discuss your Telemarketing program and Verification needs. We will be happy to answer any question you may have concerning TPV requirements, Scripts, Call Flow, and our Services.

We offer a straight forward, easy to use, package of services which include: